Embedded Alarm Clock
Requirements
The perfect alarm clock should have the following features
A nice looking display which is visible both in bright daylight and in complete darkness (like Echo Show)
Automatic backlight control where the brightness is manually adjustable. Possibly different brightness setting for day and night.
It shall have 2+ independent alarms
It shall have 1 timer alarm
It shall be super simple to set alarm, timer, snooze, turn on/off alarm and set time manually
It shall have high quality buttons which are easy to press
It should have automatic time adjustment according to time zone (either radio controlled or via WiFi)
It shall be mains connected and not include any batteries. Battery backup for settings is however preferred.
Bonus
Buttons may trigger smart home events
Simple date on display
Weather
Modes
NORMAL - Time and alarm on/off state and possible timer state is visible
SET_ALARM_1 - Change alarm 1
SET_ALARM_2 - Change alarm 2
SET_TIMER - Change timer. Timer start directly after it is set
SET_BRIGHTNESS - Change brightness level
SET_TIME - Set time
SET_DAYLIGHT - Change daylights saving on/off (alt: 2)
WIFI_SETUP - Go to soft-AP mode and present a configuration web page for SSID, password configuration. Manual wifi setup should also be possible.
Buttons
SET (S) - Iterate between different settings

Short press - Next setting
Short press - Switch views between timer / clock when timer active
Long press - Exit setting
Exit setting after inactivity period

UP (+) / DOWN (-) - Modify setting (alt: 1)

Short press - Increase/decrease by one
Long press - Increase/decrease automatically with increasing speed
Advantage: valid also for brightness

HOUR (+) / MINUTE (-) - Modify time setting (alt: 2)

Short press - Increase hour/minute
Advantage: simple to switch time zone

MODE - Set primary mode TIME, AL 1, AL 2, TIMER (does not support combinations)

SNOOZE - Delay active alarm N minutes

ALARM_OFF - Turn off active alarm (possibly combined with other key). Also switch ON/OFF in set modes
Using rotary encoder
Possibly mode selection, time setting could be selected using a rotary encoder knob.
Suitable hardware for this solution could be a nRF52840 Dongle which includes hardware support for Quadrature decoders.
State diagrams
Preferred state diagram only using a SET button and a rotary UP/DOWN button.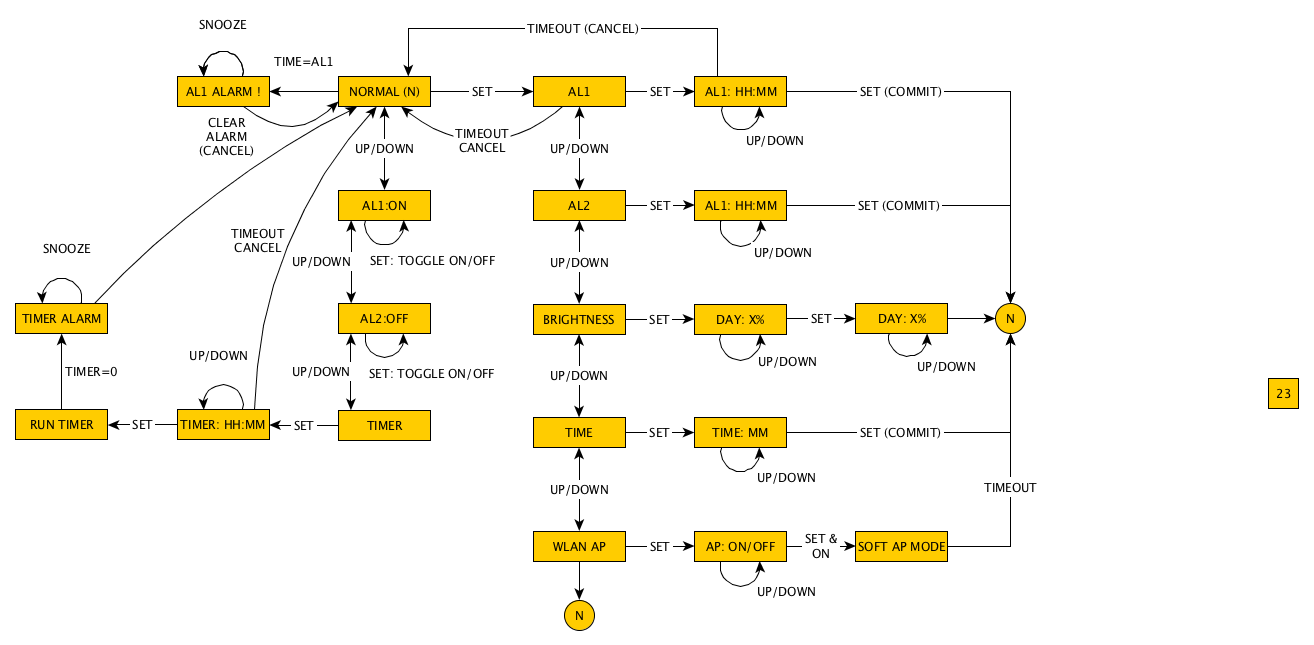 An alternative state diagram.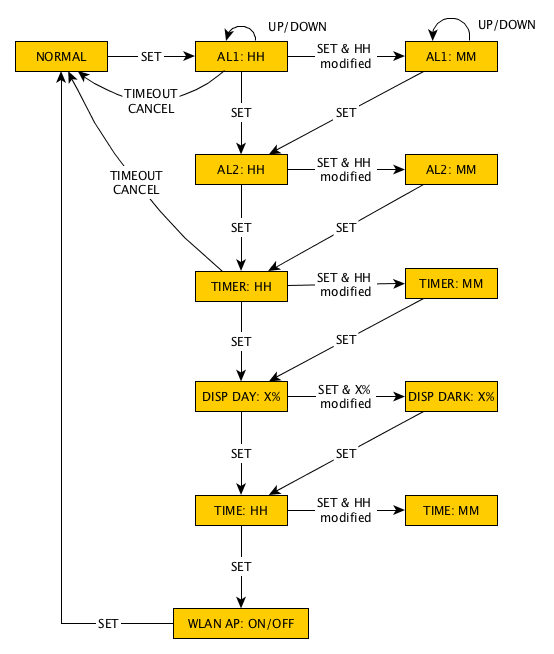 A simplified state diagram
Wifi provisioning
User enter wifi settings on the provisioning server
User setup predefined open hotspot on a phone
Device connect over predefined hotspot
Communicate a common device identity between cloud service and device

Device display a short and short lived ID on display which the user enter on the web page
User is presented with a short lived ID allocated from provisioning server which is entered to device e.g. using rotary controller
Device has a GUID printed on the device which the user enter on the provisioning web page

Device download provisioning information associated with common identity
Physical layout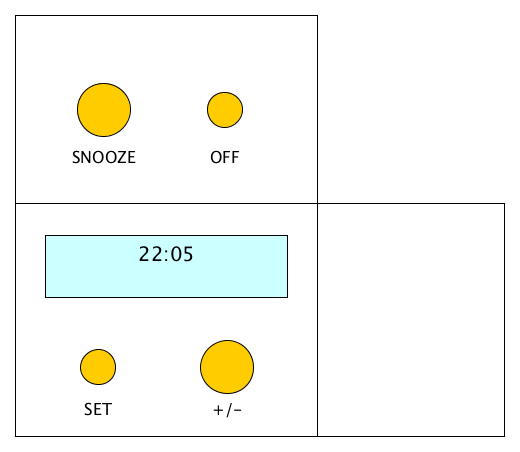 References